For detailed information on any of Sport Photo Gallery's products and services please click on the relevant link below.
What are my Acrylic options and prices?
Acrylics are available in the following standard sizes:
| Acrylic sizes | Price | Dimensions (inches) | Dimensions (mm) |
| --- | --- | --- | --- |
| Small | £149.95 | 16x12 | 406x305 |
| Medium | £199.95 | 24x16 | 610x406 |
| Large | £279.95 | 33x23 | 838x584 |
| Extra Large | £399.95 | 46x33 | 1168x838 |
| Super Size | £499.95 | 59x39.5 | 1500x1000 |
Examples of acrylic images
Below is a showcase of acrylic images from our website. Acrylic is now an option for all of our images – if you would like to see how the image you are planning to order would look on acrylic – email us and we would be happy to send you a visual.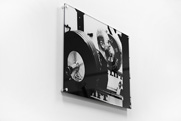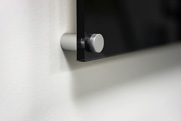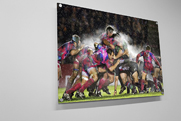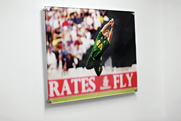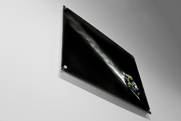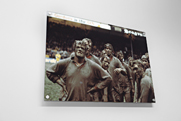 Are acrylics available in non-standard sizes?
Yes – up to the Super Size of 59 x 39.5 inches (1500mm x 1000mm) – contact us offline with the exact measurements you require. The price will be charged at the next largest standard size plus 10%.
How do I install acrylics?
The acrylic panels are designed for easy self-installation. Each panel is supplied with 4 corner sets of chrome spacers and fixings – the circular fixings are 20mm diameter (15mm on the Small 16x12" acrylic) and are 5mm thick (above the acrylic surface) the spacers are 25mm (measurement between the wall and back of acrylic panel). All you require is 4 screws – the spacers are screw fixed to the wall – the fixings then screw through the pre-drilled holes in the acrylic panel into the thread in the spacers.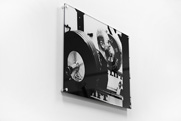 How are the acrylic images produced?
The images are printed onto photographic paper and reverse applied to 5mm cast acrylic panels. The edges are then diamond polished for a stunning clean finish.
How long the acrylic panels take to produce?
Normally 1 week to 10 days. Please allow 2 weeks in November/December for pre-christmas delivery. If your order is urgent please call us and we will endeavour to meet your deadline. (There may be priority surcharges applicable for very urgent orders)